Simone Aaberg Kærn
Born 1969 in Copenhagen
Lives and works in Copenhagen
Education
1995-1997 Goldsmith's College of Fine Arts. London, England.
1993-1999 MFA The Royal Academy of Fine Arts. Copenhagen, Denmark.
For Kærn, a trained pilot, flying is a metaphor for individual freedom. Her projects often take place in open airspace, traditionally an arena of war and politics, but in Kærn's work also a space of unlimited freedom, equality and sisterhood. With topics of gender, war, politics, and identity, often presented in provocative works, Kærn challenges both politicians, the viewer – and gravity!
In August – November 2021 her work is all over Copenhagen as the face for "After The Silence" a very well recived exhibition with artits such asKäthe Kollwitz, Hannah Höch, Hannah Ryggen, Nancy Spero, Paula Rego, Dea Trier Mørch, Kirsten Christensen, Ursula Reuter Christiansen, Kirsten Justesen, Lene Adler Petersen, Jenny Holzer, Mona Hatoum, Shirin Neshat, Pia Arke, Simone Aaberg Kærn, Jeannette Ehlers, La Vaughn Belle, and Tabita Rezaire. The museum have just acquired her work "A microglobal performance" 2002-2006.
Her documentary series Sisters in the sky, (made for Danish National Television in 1999) is a road movie in the air: She flew across the United States and met with female pilots from World War II. Other significant projects are "a microglobal performance" where Kærn flew her 40-year-old Piper Colt from Lille Skensved, Denmark, to Kabul, Afghanistan, to meet a young Afghani woman who's greatest dream was to become a pilot. Kærn also instructed and produced the documentary Smiling in a War Zone 2006 with Magnus Bejmar which was shown globally.
As a pilot, Kærn embraces the art of war. She gained notoriety for a triptych painting depicting the Danish air-war effort in Libya, a work originally commissioned by the National History Museum that after completion was rejected by the museum. The official portrait of former Prime Minister Anders Fogh Rasmussen pinpointed Denmark at War at the Danish parliament.
Simone Aaberg Kærn was named Artist of the year in Denmark In 1997 and has exhibited her aviation works at the Venice Biennale in 1999. In 1998 she received the Association of Danish Art Critics' Honorary Award. Smiling in a Warzone won the Grand Prix at the film festival in Odense and the Full Frame Women in Leadership Award in 2006 and was nominated for an international Emmy.
In 2020 through 2021 the artist have researched and found untold stories about women at sea and in the air through the exhibition "Wings of Desire" and the music performance "Lufthavets Kvinder/ Women of The Air Sea" at Danish Artist Residency and the AirPort of Ærø.
In the late 2021 she is working with virtual and argumented reality for her solo exhibition "Flying the Landscapes of the Anthropocene" at NAC Contemporary Art In Xiamen 2023. An exhibition dealing with issues of the desire of flying, transport, communication between trees and the climat crisis.
Kærn's works are represented at the Art Museums Louisianna in Humlebæk, the Danish War Museum and at AROS in Aarhus, The National Gallery of Denmark as well as several private Collections.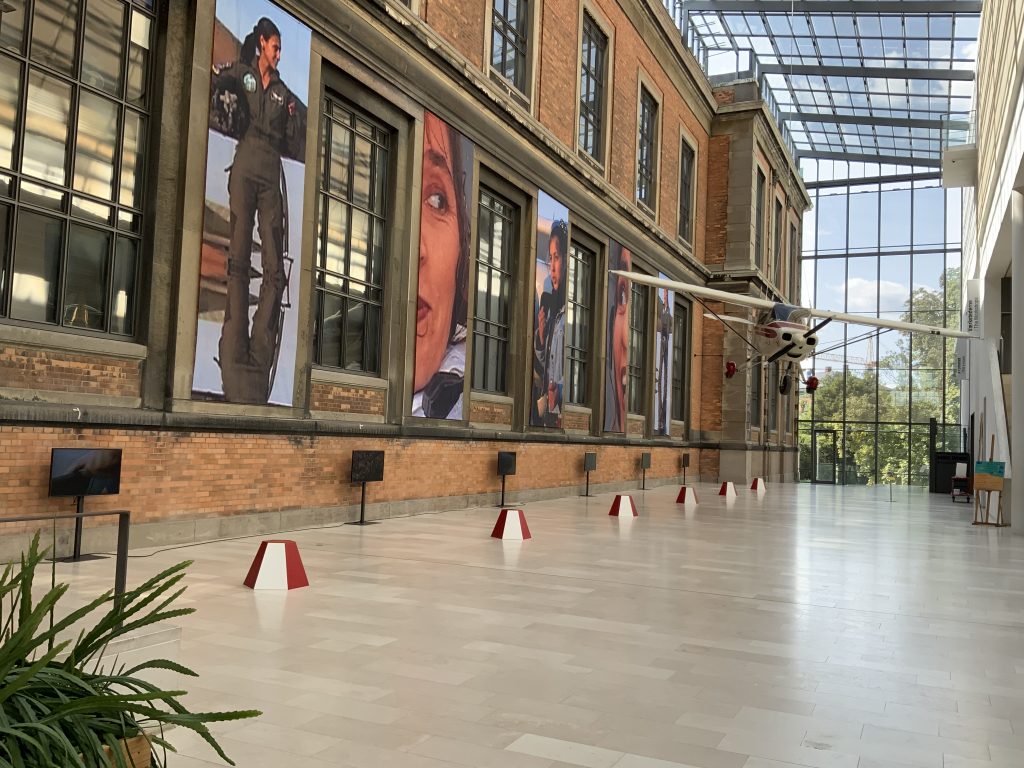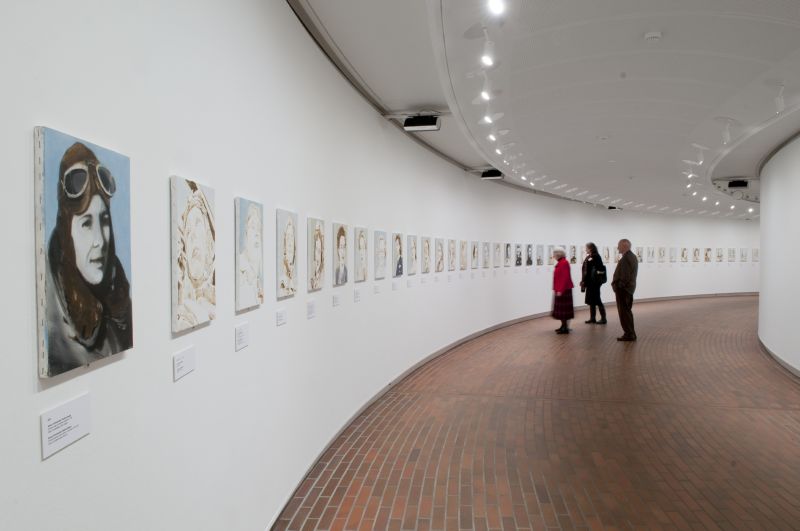 Billedekunstner og foredragsholder.
Simone Aaberg Kærn (født i 1969) er kunstner, pilot og en fantastisk fordragsholder. Hun er bl.a. kendt for det debatskabende portræt af statsminister Anders Fogh Rasmussen og dokumentarfilmen Smiling in a Warzone om hendes flyvning til det krigsramte Afghanistan. Senest har maleriet forsvaret ikke ville se, et over 7 meter stort, dialogprojekt, et bataljemaleri, over den danske indsats Libyen krigen skabt en voldsom debat om kunst og krig, i såvel medierne som på Kunsthal Charlottenborg. (se links til debatten her) Torben Sangil mener, i en stor artikel om Kærns Batalje i Zetland, at den nye genre kan kaldes "relationelt historiemaleri".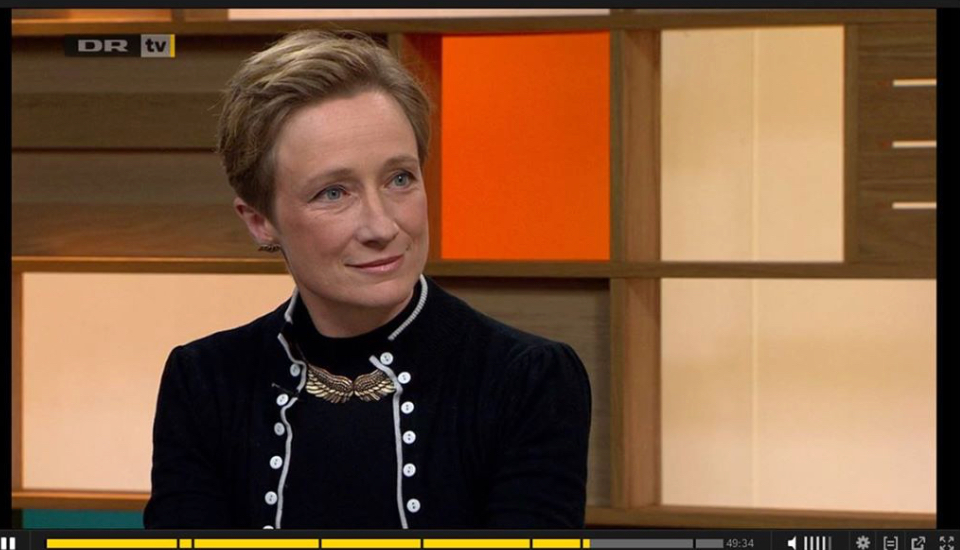 Kærn er uddannet på Kunstakademiet i København og på Goldsmiths College i London.[1] Hun er pilot og har brugt flyvningen i sin kunst siden 1994. Kærn arbejder med flyvning som en metafor for individuel frihed og luftrummet som ubegrænset af politiske grænser.[1] Af markante projekter kan nævnes "a microglobal performance", flyvningen til Afghanistan: Hun fløj sin 40 år gamle Piper Colt fra Lille Skensved til Kabul i Afghanistan for at finde en ung kvinde, hvis største ønske var at blive pilot. Med Magnus Bejmar som medinstruktør blev projektet filmet til dokumentaren Smiling in a Warzone der havde premiere i Danmark i september 2006.[2] Tidligere havde Kærn lavet tv-dokumentarserien Sisters in the sky – en roadmovie fra luften hvor hun med Stine Kirstein fløj rundt i USA og mødtes med kvindelig piloter fra Anden Verdenskrig. Dokumentarserien vistes på DR2 i 1999.[3]
Kærn har blandt andet udstillet sine værker ved Biennalen i Venedig i 1999[4] og i udstillingen Open Sky fra dels Malmø Kunsthal i 2006 og dels Kunstmuseet i Thun i Schweitz.[5] I foråret 2010 udstillede hun på San Diego Stat Universitets kunstgalleri. Seize the Sky, som udstillingen hed, viste 8 videoværker fra perioden 1995-2008 og var hendes første soloudstilling på amerikansk grund.[1]
I 1997 blev hun kåret som årets kunstner i Danmark og har også modtaget Foreningen af Danske Kunstkritikeres Hæderspris. Smiling in a Warzone vandt Grand Prix på filmfestivalen i Odense og Full Frame Women in Leadership Award i 2006.
Simone Aaberg Kærn er dommer i DR TV´s Danmarks Bedste Portrætmaler.
Kærn's værker er bla. repræsenteret på Kunstmuseerne Louisianna i Humlebæk og på AROS i Århus og Statens Museum for Kunst.